Sebastian Michael Kinder
From filk baby at FilkCONtinental to toastmaster at Intermezzo – quite a development!
Maybe it was a good idea after all that his parents did not throw him out of the window. Even though he robbed them of their sleep at absolutely outrageous times to get to watch TV. But in return, he also seems to have forgotten the chainsaw idea he had in his head – because how else could he ever have had so much fun with his parents' filk songs?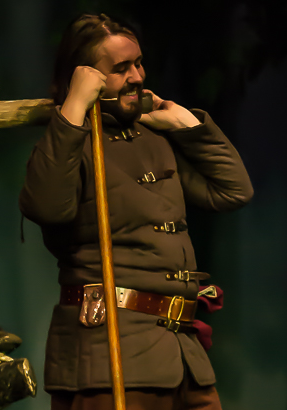 So far, Sebastian has mainly been active in German Filk, but as Footloose Filker 2012, he got a taste of the British fandom and came back with a lot of nice memories and a Sam Award for the "Best Silly Song", "Silver Rule".
Fun and music on stage are such an integral part of his life that he has decided not only to spend his leisure time with it. After completing his training as an actor, the 24-year-old with the deep voice has mastered his first job in the musical "Robin Hood – For Love and Justice" as Little John and is now looking forward to everything that is yet to come.
Whether it's just listening, or very enthusiastic singing (along) in the circles, or occasionally at the main concert, he feels at home in Filk. After a longer absence, he has been showing up again more regularly for some time now and is still very much enjoying making music together with others. One or two own songs are already in his repertoire, maybe more will follow. 😉