Don Neill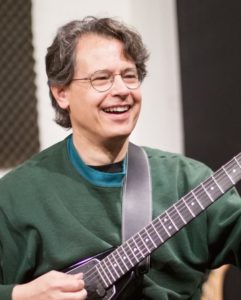 Don Neill is a Kalamazoo, Michigan native and has been playing the guitar since 1973. While in high school, he studied music theory at Western Michigan University and later studied classical guitar performance at the University of Michigan.
While at UofM he discovered science-fiction fandom, joined the "Stilyagi Aircorps" and attended his first filk gathering. After that, he became a devotee of filk and was always to be found in the late-night filk circles at regular cons. Soon he discovered filk conventions and became a regular at OVFF and FKO. He got married and had a son (who's first con was FKO at 1 yr old!). Soon after, between the demands of his career as an astrophysicist and parenthood, he GAF-iated until last spring when he returned to FKO.
He is so thrilled to be a GoH and considers this invitation an affirmation from the universe of his return to filk! He loves all musical genres and has been in jazz bands (The Kurt Moorehouse Trio, Phase, Aesthetic Police), a latin band (Los Chichistas), a jazz fusion band (Kestrel), a progressive rock band (Averted Vision), and even a punk band (Hail Bopp!), and is now in an acoustic folk-rock band called Bacorado. He started a small song garden in his twenties and has faithfully watered it over the decades until it has become a full-fledged weed patch full of songs from all walks of life. He harvests these songs regularly and they seem to keep growing!